An Family Kung Fu and Traditional Culture Academy is a martial arts school based in DeZhou, Shandong, which teaches An Family Bajiquan alongside other An Family martial arts and Chinese Culture. It serves both Chinese and Foreign students, both full and part-time, and has onsite accomodation.
Name
安氏武术传统文化学校 translates to English as "An (family) Kung Fu and Traditional Culture Academy (school".
It is also alternatively referred to as "An Wushu Family Kung Fu School"[1], "An Wushu International Kung Fu School"[2] or "An Wushu International Martial Arts School"[3].
Description
The school has indoor and outdoor training facilities, including a modern, martial arts gym with padded floor and modern equipment. It consists of three sections spread across the building's three stories: a welcoming lounge, a training hall and living quarters.
Training Facilities
Classes run 6 days a week, from Monday to Saturday, although An also offers additional classes and private sessions on Saturdays and Sundays. The vast majority of training is conducted by An JianQiu, the school's headmaster, though his father, An DeSheng, occassionally visits from the family's old school to teach classes. Children are taught by An's senior (Chinese) students.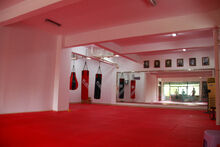 The majority of training takes place in the school's training hall which features: MMA matting (for SanDa/ShuaiJiao), an assortment of punching/kicking bags and pads, large full-length mirrors, air conditioning and two internal balconies. Although the school does permit students to bring their own gloves and protective gear, the school also provides for those without. There are also weapons for students whose training regimen involves weapons training.
Outside, students train on the school grounds which includes a small, riverfront park as well as the DongZhi Reading platform. Outdoor training is used predominantly for TaoLu and conditioning (including Hard QiZhuang and tree hitting).
Students are also often able to visit the An Family's old school, located in DeZhou park and train with other members of the extended An Family.
Accommodation
The school has 4 private rooms and a shared dormitory, with Wi-Fi internet for full-time students. Catering is provided by the school. Toilet, shower and dining facilities are also available.
Training
Training is either full or part-time, with most full-time students living in the building itself. An also offers frequent, intensive training camps for both novice and experienced students.
Although there are currently no foreign instructors at the school, An has expressed his desire to select and train junior instructors[4]. There are, however, several affiliated schools outside China, such as Luca Zara in Italy and TangShou Academy in Brazil, teaching An Family Bajiquan and other styles within the system (Bagua, Xingyi and Tai chi).
References