Su Yu Chang was a Taiwanese martial artist, scholar and practitioner of traditional Chinese medicine who devoted his life to teaching kung fu, traditional Chinese philosophy and medicine all over the world. He was a student of Liu Yun Qiao and practitioner of Wu Tan martial arts.
Name
Su was also known as "Lightning Hands" and "Mantis King".
Biography
Early life
Su was born 24th June 1940 in Dongshan, Tainan, Taiwan.
Disciple of Secret Door Tanglangquan at age 8
Legendary Zhang Te-Kuei lived in the same village as me; from my house I could out he practicing Kung Fu in the courtyard. Escaping from the CCP, He came to work as a foreigner from mainland China and taught him Mizong Quan and Pimen Tanglang Quan.
Everyday I asked my father if he could go to ask Chang if he could teach me. After the call, overall my father a group of children and young people, we should be the champion Chang's first students in Taiwan. That's how I started training with Chang Te-Kuei / (Zhāng Dé Kuí). I used to change training space after a certain time, because at that time it was common for all the houses to have an open and large courtyard space. So that the training took place at home with the people. It was also a habit that whenever a Kung Fu school opened, they had a small show on the first day, which everyone in the area could come and watch. On that day, Chang Te-Kuei performed a Tanglang Chuan form composed of many deft and very fast movements. When he had finished, he noticed that the people were laughing and were not overwhelmed by what they had seen, for them it had all looked like a compound dance.
   Tanglang chuan is a northern style and the people from my village were used to seeing the southern styles, muy easier in movement and more seemingly physically strong. At this, Chang Te-Kuei realized a technique that made him suddenly disappear and then reappear, with a big bang, on the roof of the house in front of where he had stood. After a short silence and a few astonished faces, everyone started clapping ... And that ended other questions. "
Meeting with Liu Yun Qiao
Su, Yu Chang was already famous and known as both "Lightning Hands" and "Mantis King" in various martial circles in Taiwan when he came under Grand Liu's tutelage. Su received intensive personal training with Grand Liu after becoming his third Disciple (after Dr. Leung Kay Chi and Adam Hsu). 
Pachi Tanglang
After years of training, he was working on some forms (likely Mantis forms - but that is not clearly recorded) when Liu exclaimed "Baji Tanglang"! Liu felt his student had ed the two styles into one as demonstrated by his energy in form practice and more and went so far as to write out the original calligraphy "Baji Tanglang" for his Disciple to describe his art.  Su preferred the Pinyinization "Pachitanglang".  The major quality to distinguish this style is its expression of Baji Jings (especially fundamental ones like Chen Sui Jing, Shi Tzi Jing, Bao Zha Jing, and Chan Ssi Jing) with and throughout traditional Mantis forms creating a highly mobile and quick moving explosive variant of the original[1].
Known for his great speed and fighting ability, he was dubbed "Lightning Fist" and was a Chinese national kung-fu champion by the age of fourteen. In 1968, at the International Martial Arts Championship in Malaysia, he won the all-around Gold Medal[2].
Su held a Doctorate in Chinese Medicine and later taught medicine, philosophy, and martial arts at Taiwan's National University, the Pedagogical Institute, Fon Chia University and Fu Yen University. He acted as Director of Martial Arts for the Chinese Olympic Games and served as a combat instructor for the Taiwanese Military School[3].
Pachi Tanglang
Su Yu-Chang is the president and founder of the Pachi Tanglang International Martial Arts Association. As a disciple of the legendary s of Chinese martial arts Chang Te-Kuei, Wei Hsiao-Tang, Li Kuen-Shan, and Liu Yun-Qiao, Su has been teaching Chinese Gong Fu for over 40 years. He is the author of seven books on Chinese martial arts and philosophy, as well as nine instructional videos. His traditional Bagua Quan lineage stems from Dong Hai-Chuan, Yin Fu, Gong Bao-Tian and Liu Yun-Qiao. Su has many students who teach around the world, like Venezuelan student Rafael Matute, this year gaining the world record in Muay Thai Boxing in Thailand, after having won for five consecutive years. We mention Mr. Matute because he also assisted the Wu Tang Hall of Fame Championships, held in Canton, Ohio, in October 1998. Yang Shu-ton was a disciple of Su Yu-Chang before becoming a disciple of Grand Liu Yun-Qiao.
Venezuela
Su travelled to Venezuela in 1976, choosing to settle and live in Caracas, where he taught at Venezuela's Central University and established the Pachimen Institute of Venezuela. Later, he went on to become Vice-President of the South American Martial Arts Federation[3].
Spain
In 1989, he relocated to Spain, where he trained special security teams for the 1992 Olympic Games in Barcelona and established new branches of Pachi Tanglang Martial Arts in Barcelona and Mallorca[3].
Death
Su died on the 29th April 2019 at the age of 78 under the care of the Hospital de Nuestra Sra. De Dolores and Hospital General de La Palma[4].
Martial Arts
Su published a number of well received books on martial arts, mostly compiled from his lessons in Spanish, Japanese and English, as well as several video recordings on teachings of Bagua Quan, Baji Quan and several Praying Mantis substyles.
Personality
Interview between Grandson of Zhang Dekui, and Su Yu Chang.
https://thomas007.nidbox.com/diary/read/8067195
Re:>> Excuse me, Mr. Su, in the boxing, you seem to love to laugh very much. Is this your character?
Q    Re:>> There is also a person named Zhou Xishan in it. Is it Zhou Gaoshan? teacher?
A    Re:>>Up to now, I still love to laugh and laugh very loudly. With this character, I myself maintain the spirit of "laughing away from the past and present, and walking in a chic world".
Zhou Xishan was originally called Zhou Gaoshan.
Response:
Zhou Gaoshan should be the last disciple accepted by his grandfather. According to the generations of his teachers, Su Yuzhang (named Su Kunming at the time) was the eldest disciple, and Chen Qingsong was the second disciple...Shi Zhengzhong...The last disciple accepted was Zhou. Gao Gao, according to his father's statement: When the grandfather received disciples in the early days (the eldest disciple and the second disciple), he did not charge any fees, and only afterwards did he charge fees
Legacy
Su's contribution to the dissemination of Chinese martial arts is a significant one; his Pachi Tanglang school has branches in Taiwan, Japan, Spain, New York, Venezuela, Malaysia, Switzerland, Norway, Colombia, Argentina and Holland[2]. He is the author of seven books on Chinese martial arts and philosophy, as well as nine instructional videos.
" Su Yu Chang, possessed a vast knowledge of Praying Mantis, Baqua Chang, Long Fist, Taichi Chaun, Shing Yi, Pikua, and Bachi Chen, at a level that elevated him a National Treasure.
He managed and organized schools / clases in Venezuela, Japan, New York City, and several other parts of the world.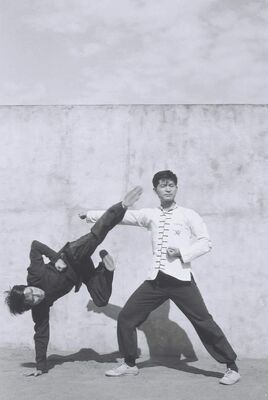 Notable students
Listed in alphabetical order.
Juan Acevedo (衛安皇) - Acevedo began training with Su in 1989 both directly and through his other paisu students. In 2003, he opened the Pachi Tanglang school Cambridge where he serves as the head[5].
Kurt Wong - Wong learned from Su as well as Liu Yun Qiao and Adam Hsu. He currently heads the Wu Tan Alaska branch in Anchorage.
Rafael Matute - Matute is a Venuzuelan student of Su's who gained the world record in Muay Thai Boxing in Bangkok, Thailand, after having won for five consecutive years. His accolades were for the "Heavy Weight Champion / Light Heavy Weight Champion World Record" and as "Most Valuable Competitor"[6]. Additionally, Matute assisted the Wu Tang Hall of Fame Championships, held in Canton, Ohio, in October 1998[7].
Ryuchi Matsuda - a Japanese scholar of Chinese martial arts from Okazaki City, Aichi Prefecture, Japan.
Tony Yang - One of Su's most reknowned students. Su later introduced Yang to his own teacher, Liu Yun Qiao.
References